LGBRC Saturday Ride 10/29: Mt Winery, Hwy 9, Skyline/Summit, Zayante, Fern Ridge/Hutchinson, OSC, Soda Springs
October 29, 2022 @ 8:30 am

-

1:30 pm

Los Gatos Bicycle Racing Club / Group Event 
Where: Los Gatos Coffee Roasting Company, 101 W Main Street, Los Gatos
Ride start: 8:30 AM
Rolling time: 8.35 AM
Distance: 55.51mi
Elevation gain: 8214 ft
Estimated duration: ~4 hrs
Dear fellow riders,
Join us this upcoming Saturday for a challenging ride featuring several iconic climbs, including Mt Winery, Big Basin, and Soda Spring. If you are planning to join this great ride, we highly appreciate if you could join the Strava event so that we may have an idea of attendance and keep everyone updated.
Notice that despite the ride has been marked as a tempo ride, we will have several regrouping points so that to avoid to leave anyone behind. The regrouping points may include at least the following:
Top of Mt. Winery
Top of Hwy 9
End of long descent before heading toward Zayarte
Top of Zayarte
Bottom of Soda Spring
Top of Soda Spring
In order to enjoy your ride while safeguarding yours and your fellow riders safety here a few basic rules that we encourage you to follow:
Introduce yourself to new riders. If you're a new rider, introduce yourself at the start of the ride.
Roll out from the start/regroups gently so everyone has a chance to warm up and get going.
Use hand signals and call out turns, stops and road obstructions. Repeat the message through the group.
Mechanicals: relay the message to the front. Help out the victim. Wait for the victim at the next regroup.
Ride paceline / 2×2 on the flats. Ride leader will initiate rotating paceline when the group desires.
Follow behind the wheel in front to avoid the bunch spilling over the road.
Don't ride on the sidewalk at Los Gatos Coffee Roasting Company
If you leave a ride early, notify someone so the group doesn't think they lost you
Please carry ID just in case.
Riders must wear a helmet. Riders are encouraged to wear a helmet on LGBRC rides and riders are discouraged from riding with LGBRC groups if they don't wear a helmet.
Riders are always responsible for their own safety. If you feel uncomfortable riding with the group, gently move to the rear of the group.
Look for yourself for cars and other road users, and OBEY TRAFFIC rules – you are responsible.
Do NOT cross the centerline. You will be asked to leave the ride if you do so.
If you're new to group riding, make this known to the ride leader and ask for help.
Protect your front wheel, do not overlap wheels.
Do not make sudden lateral movements at any time.
Be gentle on brakes so as not to suddenly stop in front of someone.
No Aero Bar use.
Here below the map and elevation map: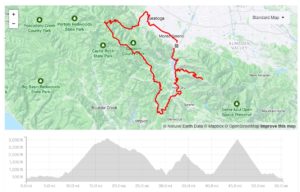 Please remember to bring lots of food to keep you energized throughout this ride, and plenty of water/beverages as a typical California Sunny day is forecasted 😊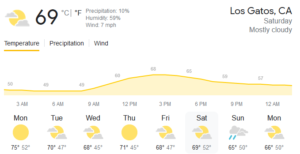 I hope to see you this Saturday,
-Salvatore