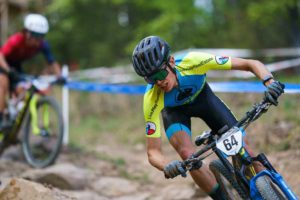 Hi Team,
Last week I competed in several xc mountain bike races in Bentonville, Arkansas. It was the second round of the US Cup Series, including one short track and two cross country events (UCI HC). I raced U23 cross country and elite short track.
Planning to miss the whole week of classes at Berkeley, I flew to Arkansas on Monday and prerode the course on Tuesday. Bentonville is known for its well built trails on rocky terrain, and the race course included a mix of singletrack climbs, rocky descents, and plenty of air time on jump/drop features.
This event is the biggest UCI mountain bike race in North America this spring, and it attracted an international field with all of the top riders from the US, Canada, and South America. The first cross country was on Wednesday, and I raced in a field of 70 U23 athletes. I had a good start and sprinted up into the top 15 on the start lap. However, the pace at the front was too fast for me, and I started to drift backwards. I was having difficulty putting down high power on the punchy climbs and recovering on the technical descents. Trying to get the most out of my legs, I stayed on top of nutrition and hydration, and used extra water for evaporative cooling to keep my core temperature down. Unfortunately I never found a good group to work with and ended up riding alone to finish in 32nd, saving a little energy for later in the week.
After a rest day filled with writing papers and solving problem sets, I raced short track on Friday. The elite race had nearly 100 riders, but luckily I had a 5th row call up thanks to my UCI points from last season. I lined up on the right side and had a fast start, lucky to avoid several crashes in the first lap. I moved up as fast as I could, aware that if I got lapped by the leaders the race would be over. It was a fast course with lots of straightaways, a dusty downhill, and one climb each lap. My tactic was to draft in groups on the flats, move forward right before the descent, and then sprint up the climb to try to close the gap to the next riders. It was an all out effort for 20 minutes, and I finished on the lead lap in 34th overall.
Saturday was the highlight event, the HC cross country race. Trying to ride aggressively at the start, I made a mistake and went into the course tape but managed to ride out of it without losing too many positions. I went full speed on the first lap, attempting to move up before the gap between groups expanded. Just after finding my way into the top 20, I had an unfortunate crash while trying to drink on a loose corner. It didn't take too long to get going again, but I lost the group I was hoping to ride with. When the next racer caught me, I forced myself to refocus and hold on to the wheel. We were working together to move forward, powering up the climbs and flying down the descents. It took everything I had to sustain that high pace for over an hour. My heart rate was in the 200s and I had tunnel vision, but I played mind games to convince my body to make it through the lap, the top of the climb, or the next acceleration. I almost made it to the end, but blew up on the last lap and rolled in to the finish. I placed 22nd in a stacked field of the fastest U23s in North America. While it wasn't a perfect race, I am happy with my effort and result.
This was a fun week with several race experiences, and a good reminder of how hard cross country racing can be. I'm ready to go for it again at the Sea Otter Classic this weekend!