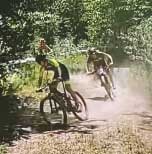 Hi Team,
In July, I took two weeks to travel to Winter Park Colorado to participate in the USAC
mountain bike national championships. Since Winter Park is situated at 9000 feet of elevation I had to acclimate. To acclimate, I spent a few days at Mammoth Lakes followed by Park city, and then a few nights at winter park. I made the most of my time acclimating by riding some of my favorite trails in Mammoth and Park City. I had great fun exploring the mountain towns on my bike and taking in the scenery.
Before I knew it, I arrived at Winter Park feeling acclimated and ready to race. On my
first day in Winter Park, I checked out the course I was racing. The course was one large climb followed by a descent that featured a short traverse and rolling section. I made sure to practice the technical rock gardens on the descents and was lucky enough to have friends to show me some quick lines that I did not notice before.
Since there were 160 riders registered for the race I had to qualify for the finals which
were the top 120 riders. Thursday, I had my qualifying race, my strategy was to have a safe and conservative race to save energy for the finals race the following day. Unfortunately, during the start of the qualifier, I was caught up in a large pile-up. Luckily, I was able to recover and gave a strong effort which put me in the 90th call-up position for finals the next day. For finals, I ensured an extensive warm-up since I raced hard the day before. My legs felt surprisingly good and ready for finals. Since it was my first national championship, I took my time to appreciate the top-level commentation and pump-up music they played for our callups. During the race, my strategy was to have a conservative start avoid pileups, and make up time on the climb in the following laps.
The race was pretty hectic on the descents, since I was not yet familiar with the
level of racing at nationals, I let up too many spots on the descents since I was not aggressive enough. However, my fitness helped me on the climbs to make up lost positions. The hour and a half of racing went by quickly and I rolled across the line 75th/120 in my first national championships. I emptied the tank completely and had fun so it's a result I'm proud of.
The following day I had short-track qualifiers. I knew it would be hard to qualify because
it is only the top 50 riders and I was starting in the back row of my qualifying heat which does not help in an 11-minute race. I finished the qualifying race 3 spots away from qualifying.
Although I was close to qualifying I'm pleased with how I did considering the barriers stacked against me due to the back row start.
The verdict: Although I did not take home a jersey or medal this trip, I'm really proud of
how I did. I knew it would be hard and I would be unfamiliar with the level of racing the fastest
kids in the country. I look forward to seeing how I can progress and perform next year at these national-level events.