The Leadership Team (Board, Race Directors, and Committee Chairs) held the September meeting 9/27/2021.  Some highlights:
The Women's Elite Team was well represented at District Championships in Santa Cruz, with Lisa taking first place (see picture below)
The Men's Team also competed in District Championships with Michael placing best at 4th
The first cyclocross race was Saturday with several members racing (results are not posted yet)

Sacrament and Santa Cruz are hosting events; Chris will be sending out more information

One of our sponsors has expressed interest in becoming the Title Sponsor for next year, more information to follow
Water bottles with our logo are still available in 22 or 26 oz sizes; if interested please email Barry (bgordonfnace@gmail.com)
Next Leadership meeting October 27th at 6:30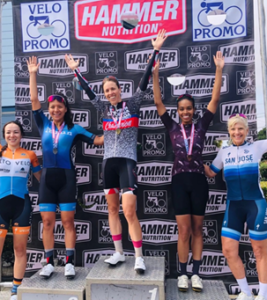 Lisa on the podium taking the top spot!!